Domestic and Industrial Installations
Introduction
Due to water restrictions in the Western Cape, South Africa, domestic, industrial, farming and government institutions have realised the benefit of utilising the water source in the low ground water table in the Western Cape.

These sectors are familiar with water restrictions, high water tariffs and the financial impact when utilising municipal water for irrigation purposes. Wellcore works closely with property owners, body corporates and government institutions to design and install well point pump stations to suit the requirements of the client.

Each well point pump station is custom designed with the correct pump selection, based on the water availability from the well points. Should low volumes be encountered, reservoir tanks are installed with booster pumps so as to meet the client's watering requirements.

Domestic installations can be divided into the following stages: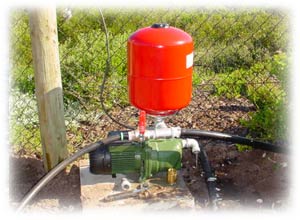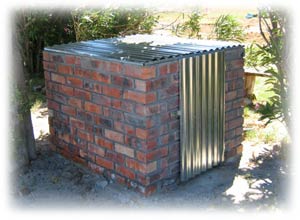 Basic information gathering Stage
Area to be watered
Water source and quality
Pressure available / required
Available water capacity
Pump
Soil texture
Slope
Plants
Obstacles
Observations
General recommendations
Recommended hours of irrigations
Other, mixing water.
Design Stage
General layout and design
Well point installation and pump test
Pump test results
Irrigation

Determine system design capacity
Water pressure
Water volume
Select sprinklers
Divide system into sprinkler zones
Valves and pipe sizes
Sprinkler lines
Main line
Irrigation controller

Determine reservoir capacity
Connecting to Municipal water supply
Connecting to a well point/booster pump
Review design
Material list
Compile cost estimation for the complete system
General conditions of proposal
Installation Stage
Install well points for domestic use
Building of pump house
Electrical Points
Installation of reservoir tanks
Pumps and switch gear
Install the complete irrigation system
Connecting to water supply
Back filling en clean-up
Test and commission system
Watering guidelines
Every drop counts!
The success of having an efficient and effective pump station and irrigation system is essential in preserving our natural resources and is not simply a noble thing to do, it is an essential part of our everyday lives.
LINKS

Turf-ag and Hunter irrigation products used in all our installations

Click here for the Turf-ag website

Click here for the Hunter website

DOWNLOADS

Cape Town needs groundwater
pdf document, 3,1mb
(A note on the potential of the Cape Flats Aquifer unit to supply groundwater for domestic borehole use in the Cape Town Metropolitan area.)
By L.G.A. Maclear, Geohydrology Directorate, Department of Water affairs and Forestry, Cape Town.
Technical Report No. Gh3868, August 1995

Mixing water
pdf document, 3,8mb
Chapter 4 - Mixing Water
From: 'Concrete Technology, A South African handbook'
By: F.S. Fulton

Guidelines for boreholes
pdf document, 20mb
Afrikaans article discussing boreholes

Preliminary Project Analysis Form - Residential / Domestic
xls document, 49kb
Please complete this form and fax to us when applying for domestic irrigation.

Plan grid for Residential / Domestic irrigation
xls document, 27kb
When applying for domestic irrigation, use this grid to draw layout of house / garden.